Big Tech
EU Commission revamps procedures to speed up Big Tech privacy probes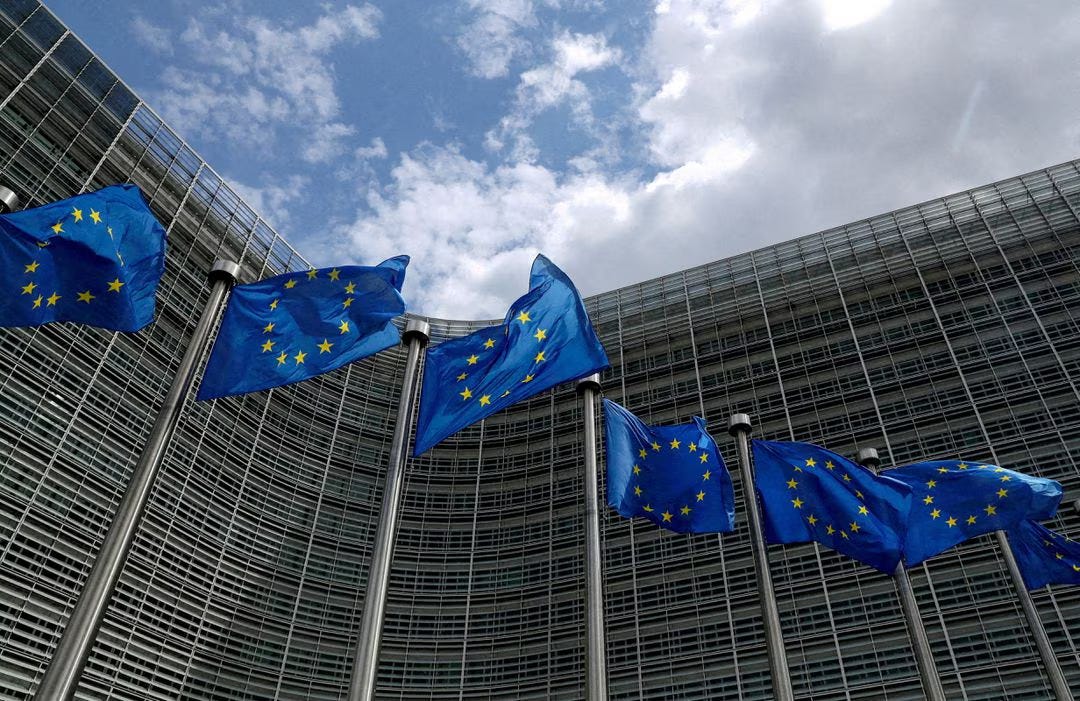 Reuters: Stung by criticism of tardy privacy investigations and the Irish privacy regulator's outsized role in overseeing Big Tech, the European Commission on Tuesday announced new rules to help watchdogs work on cross-border cases at a faster clip.
Thanks for reading Digital's Substack! Subscribe for free to receive new posts and support my work.
Subscribed
Critics say investigations take too long and fines are too low to deter privacy breaches by Big Tech companies, undermining the goal of landmark EU rules known as the General Data Protection Regulation which came into force in 2018.
The Irish Data Protection Commissioner (DPC), the EU lead regulator because many of the world's largest technology companies are based in Ireland, has also attracted criticism from its peers for its fines, seen by some as too low.
"The harmonisation of these procedural aspects will support the timely completion of investigations and the delivery of swift remedies for individuals," the Commission said.
The new rules require the main privacy authority to share a summary of key issues to its peers, allowing them to provide feedback at an early stage and also set out common deadlines for cross-border cooperation and dispute resolution.
Complainants have the right to be heard in cases where their complaints are fully or partially rejected and also to be properly involved should regulators decide to investigate their grievances.
The new rules also give companies under investigation the right to be heard at key stages in the procedure and to access the file.
Privacy activist Max Schrems who has filed complaints against Meta Platforms (META.O) and Alphabet's (GOOGL.O) Google criticised the new procedures.
"The Commission proposal seems to be technically and materially flawed and rather strips citizens of existing rights than ensuring their enforcement," he said.
Tech lobbying group The Computer & Communications Industry Association said the rules fall short when it comes to the right of companies to appeal and the right to a fair hearing with a realistic timeframe
Google confirms it's training Bard on scraped web data, too
Verge: The updated policy specifies that "publicly available information" is used to train Google's AI products but doesn't say how (or if) the company will prevent copyrighted materials from being included in that data pool. Many publicly accessible websites have policies in place that ban data collection or web scraping for the purpose of training large language models and other AI toolsets. It'll be interesting to see how this approach plays out with various global regulations like GDPR that protect people against their data being misused without their express permission, too.
A combination of these laws and increased market competition have made makers of popular generative AI systems like OpenAI's GPT-4 extremely cagey about where they got the data used to train them and whether or not it includes social media posts or copyrighted works by human artists and authors.
The matter of whether or not the fair use doctrine extends to this kind of application currently sits in a legal gray area. The uncertainty has sparked various lawsuits and pushed lawmakers in some nations to introduce stricter laws that are better equipped to regulate how AI companies collect and use their training data. It also raises questions regarding how this data is being processed to ensure it doesn't contribute to dangerous failures within AI systems, with the people tasked with sorting through these vast pools of training data often subjected to long hours and extreme working conditions.
Gannett, the largest newspaper publisher in the United States, is suing Google and its parent company, Alphabet, claiming that advancements in AI technology have helped the search giant to hold a monopoly over the digital ad market. Products like Google's AI search beta have also been dubbed "plagiarism engines" and criticized for starving websites of traffic.
Here's the inside story of how Congress failed to rein in Big Tech
WashingtonPost: ove the products, hate the companies — that's the way many Americans think about Big Tech. Which is why it looked like a good bet when Congress convened in 2021 that Washington might finally rein in the companies that many believe have grown too big, too rich and too powerful — even as their products and services have become ever more indispensable to our lives. Here, it seemed, was the rare issue on which both Republicans and Democrats, House and Senate, could agree.
In the end, however, Congress failed to act. And in that failure is a case study of how Congress has lost its ability to address the most pressing problems facing the country.
The root cause of this dysfunction has been the sorting of Americans into two warring tribes, liberal and conservative, Democrat and Republican. Over time, this hyperpartisan competition has played out to a stalemate in Congress, with legislative majorities that are so small and tenuous that every issue is now viewed through the lens of how it could tip the next election.
And so it was with a handful of bills meant to end the anticompetitive business practices of Apple, Amazon, Facebook and Google. By early 2022, all had been voted out of committees in both chambers with bipartisan majorities. All had broad support from voters, knowledgeable experts, regulators and the White House. Yet not one was taken up by the full House and Senate.
EU
EU and Japan strengthen cooperation on digital trade and economic security
EuropeanComission: The Executive Vice-President and the Ministers concluded the EU-Japan Digital Trade Principles. This instrument will be key for bilateral trade and investment, as it will establish a common understanding on key issues relevant to digital trade and a joint commitment to an open digital economy, free of unjustified barriers to international trade. It will build on internationally agreed principles such as the G7 Digital Trade Principles and the World Trade Organization e-commerce negotiations and it will be non-binding. The Digital Trade Principles will cover data governance, digital trade facilitation, consumer trust and business trust.
Closer strategic cooperation
The Dialogue reaffirmed the importance of strategic cooperation between the EU and Japan, in particular in the current challenging geopolitical context. It also confirmed the their strategic alignment on the current and future sanctions to curb Russian capabilities, along with other partners such as the US and UK.
Both sides highlighted the necessity to cooperate at bilateral and multilateral level on economic security and discussed possible areas of cooperation on relevant tools such as anti-coercion, export controls and investment screening, especially in view of the recently announced European Economic Security Strategy. In this respect, the Co-Chairs reiterated the importance of collaborating in the G7 anti coercion platform, agreed under the Japanese Presidency of the G7 Summit.
The two sides agreed on the necessity to build resilient supply chains in strategic areas, a crucial element to ensure economic security. In this context, the EU and Japan discussed the EU Critical Raw Material (CRM) Club, and potential future developments. The initiative aims at diversifying sourcing and strengthening supply chains, and bringing together consuming countries and resource-rich countries.
The parties discussed the need for strengthening the international rules-based order by ensuring a successful 13th Ministerial Conference (MC13) of the WTO in February 2024.
Finally, the two sides also explored the possibility to enhance bilateral cooperation under the Joint Statement Initiative (JSI) on e-commerce and maintain the momentum to better take advantage of digital trade opportunities. In particular, they stressed the importance of concluding the Data Flows negotiations by the autumn. This will enable both parties to implement modern digital trade rules under the existing EU-Japan EPA, making this agreement fit for the digital era.
Background
The EU-Japan Economic Partnership Agreement entered into force more than four years ago. Over this period, it has proven to be the bedrock of the EU-Japan economic relationship. In 2022, trade in goods between the two partners recovered to pre-pandemic levels, reaching 141 billion euros, confirming strong and resilient trade ties between the EU and Japan.
India
Why are U.S. tech firms sceptical about digital trade with India?
Hindu: The CCIA, while appreciating the reinvigorated efforts to ramp up trade through bilateral initiatives, has flagged in its note, the "significant imbalance" and "misalignment" in the U.S.-India economic relationship. "The U.S.'s extension of market access, trade and openness to Indian companies to operate and succeed in the U.S. has not been reciprocated by the Indian side," it reads, adding that the Indian government has deployed a range of "tools to champion their protectionist industrial policy", tilting the playing field away from U.S. digital service providers in favour of domestic players.
To describe these "discriminatory regulation and policies", it cites the example of India's guidelines on the sharing of geospatial data, which it accuses of providing preferential treatment to Indian companies. It has also expressed discontent over India's veering away from "longstanding democratic norms and values, and seeking greater government censorship and control over political speech", which it argues has made it "extremely challenging for U.S. companies to operate in India". Notably, concerns about India's democratic values in comparison with those shared by the U.S. and cited as the bedrock of the bilateral partnership were also raised during Mr. Modi's state visit.
China
China's Asia-Pacific trade deal, digital economy pact aspirations backed by New Zealand
SCMP: New Zealand on Wednesday publicly endorsed China's participation in both an Asia-Pacific trade agreement and a digital economy pact during Prime Minister Chris Hipkins' first visit to the country.
China applied to join the Comprehensive and Progressive Agreement for Trans-Pacific Partnership (CPTPP) in September 2021 and Digital Economy Partnership Agreement (DEPA) in November 2021.
New Zealand "is aware of the high thresholds that participants of CPTPP should conform", while it also "welcomes China to join the working group of DEPA for in-depth discussions", said a joint statement released by the state-backed Xinhua News Agency.
CPTPP membership requires approval from all member countries, namely Canada, Mexico, Peru, Chile, New Zealand, Australia, Brunei, Singapore, Malaysia, Vietnam and Japan. The United Kingdom, having applied in June 2021, reached an agreement to join in March and is expected to formally sign the pact this year.
DEPA, which currently covers Chile, New Zealand and Singapore, builds upon the digital or e-commerce chapters of existing free-trade agreements, such as CPTPP, adding commitments to help digital trade and cooperation on advanced technologies.
Hong Kong inks cross-border data transfer deal for Greater Bay Area with China's internet regulator following crackdown
scmp: Hong Kong and China's central government have signed a memorandum making cross-border data transfers easier within the Greater Bay Area, in a deal that could give the southern semi-autonomous city a special role in handling data from China.
The Cyberspace Administration of China (CAC), the country's data watchdog, and Hong Kong's Innovation, Technology and Industry Bureau agreed to draft rules for the safe flow of data within the region, which includes Macau and nine cities in Guangdong province, under a national data security management framework, according to an announcement from the agency on Friday.

While the CAC did not disclose details, it said the deal is expected to enhance data flows between the mainland and Hong Kong, bringing the full use of data into play.
In a Facebook post, former Hong Kong chief executive Leung Chun-ying called the memorandum an "achievement" and a "breakthrough" that comes after years of effort from both sides. Leung, also a vice-chairman of China's top political advisory body, said the deal can "balance the nation's cybersecurity and the need for cross-border exchanges".
Sun Dong, Hong Kong's Secretary for Innovation, Technology and Industry, said in a separate announcement on the local government website that the memorandum could facilitate the transfer of mainland data to Hong Kong in a convenient and orderly manner, which will help the city build a global data hub.
"Facilitating data flow in the bay area is an important initiative for promoting the integrated and high-quality development of the bay area, lowering the compliance costs of enterprises and driving the development of Hong Kong's digital economy and proactively integrating Hong Kong into national development," the tech chief said in the statement.
The deal comes after China introduced new laws in recent years tightening controls on the transfer of cross-border data. The Data Security Law and the Personal Information Protection Law, which went into effect in 2021, impose tough penalties for the unauthorised collection, processing, storage and use of data generated in the country.
Thanks for reading Digital's Substack! Subscribe for free to receive new posts and support my work.