UK
India-U.K. trade talks home in on digital trade, investor protection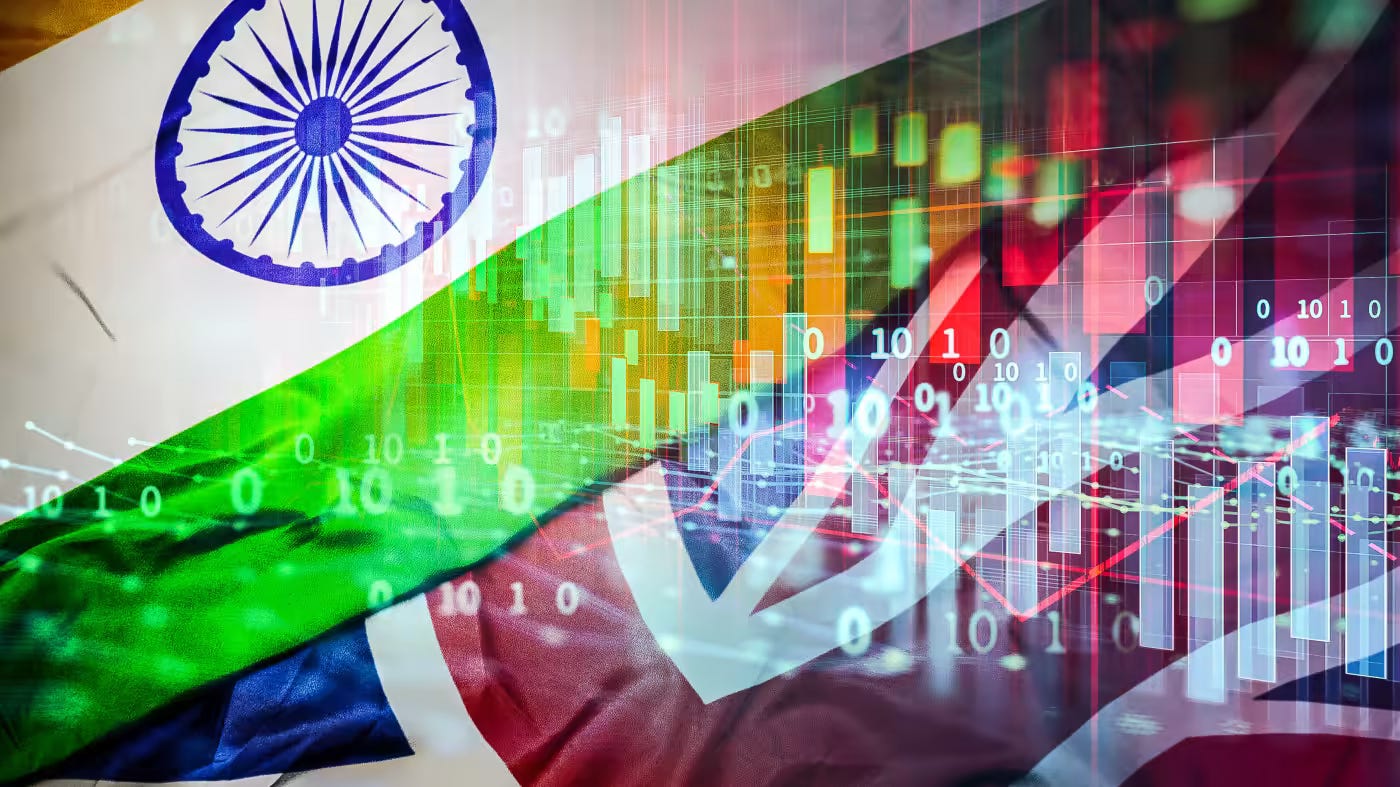 NikkieAsia: Indian and British negotiators will be seeking a landing zone on digital trade and investor protection as they hold another round of free trade talks in New Delhi this week.
So far, 13 of 26 policy areas that cover topics such as goods, services, investments and intellectual property rights have been closed. A top official of India's commerce ministry noted that "good, positive" momentum is present across the areas.
Kevin McCole, managing director of the U.K. India Business Council, says a free trade agreement would bring "real growth" in digital trade because of respective strengths in the sector and the geographical distance between the countries.
"Data and digital trade only has to navigate regulatory barriers," he said. "So if regulatory alignment is agreed, then there is scope for substantial growth in U.K.-India trade via digital services and digitally enabled services."
Services account for 44% of U.K. exports to India and the same percentage of imports from India.
But in India, a debate over domestic data legislation may be hindering the discussions.
Tech associations favor the liberalization of digital trade but with certain caveats such as "'if I want to share certain data with you, you should also assure me that this data would not be pilfered or used for other purposes," said Pankaj Jha, a professor at O.P. Jindal Global University in India's northern Haryana state.
Natasha Schou, Head of Asia Pacific at TheCityUK, an industry body representing financial and professional services, points to the U.K.-Japan free trade deal as "a really useful benchmark to follow for other FTAs," as well as the Digital Economy Agreement with Singapore.
The deal with Japan commits both sides to not adopt unjustified data localization measures, not to impose customs duties on electronic transmissions, and works towards recognising e-signatures among other measures.
The negotiating teams could be hamstrung until India's domestic data bill winds its way through parliament. In its current form, the bill would allow for data trade arrangements with trusted partners, which analysts say is promising in the context of bilateral agreements.
"I think the final draft negotiations, which are still under consideration, will be concluded after the Indian parliament passes this bill, and it gets ratified," Jha said, adding that it might take until November or December for a trade deal to be reached.
It is also possible that an FTA could be concluded before the bill makes it through the legislature, albeit with a caveat to continue discussions on digital trade.
"There's goodwill and positive intention from both sides," a source close to the negotiations told Nikkei Asia. "But it may take a little bit longer because of issues [on data legislation] the governments are unable to control at the moment; legislation needs to be passed."
Regarding the legislative tangle, the FTA negotiators could commit themselves to fast-tracking data discussions after the bill passes. This is "a mechanism that could be deployed so as to not delay an overall deal while continuing to a positive conclusion of negotiations on data," the source said.
There is recognition that the agreement should include provisions that allow reviewing digital trade elements and adapting them as the environments in India and the U.K. evolve.
UK signs historic trade deal with Ukraine as part of enhanced support
uk.gov: The UK today [Monday 20 March] signed a pivotal digital trade deal with Ukraine that will support the country's economy and greatly enhance the UK-Ukraine trade and investment relationship.
The Department for Business and Trade today hosted a number of Ukrainian ministers, as well as 200 UK and international businesses and officials, at Mansion House to lay the foundation for closer future co-operation.
The Road to Ukraine Recovery Conference, geared towards supporting Ukraine's National Recovery Plan and mobilising UK businesses to engage in future Ukraine reconstruction projects, opened with a welcome from the Business and Trade Secretary. This event, and our mobilisation of UK industry, is a key stepping stone on our route to the Ukraine Recovery Conference that will be hosted in London in June.
Badenoch, alongside Ukraine's First Deputy Prime Minister and Minister of Economy, Yulia Svyrydenko, virtually signed a ground-breaking new Digital Trade Agreement (DTA) that will help Ukraine support its economy through the current crisis and lay foundations for its recovery and revival.
Business and Trade Secretary Kemi Badenoch MP said:
The historic digital trade deal signed today paves the way for a new era of modern trade between our two countries.
We are also extending tariff free trade on imports from Ukraine to early 2024, providing much needed support to Ukrainian businesses.
These initiatives will help protect jobs, livelihoods and families now and in Ukraine's post-war future.
Since June 2022, UK negotiators worked at record pace with their Ukrainian counterparts to deliver a deal after President Zelenskyy highlighted the important role Ukraine's first ever digitally focused trade agreement could play in bolstering his country's economy.
Ukraine will have guaranteed access to the financial services crucial for reconstruction efforts through the deal's facilitation of cross-border data flows. Ukrainian businesses will also be able to trade more efficiently and cheaply with the UK through electronic transactions, e-signatures, and e-contracts.
US
Critics say Big Tech uses trade deals to avoid data privacy laws
RollCall:Tech companies are using international trade agreements to conceal software codes behind artificial intelligence programs as well as circumvent U.S. legislation that could curb the industry's freewheeling use of consumer data, according to lawmakers and advocacy groups.
As Congress is trying to rein in Big Tech, industry "lobbyists and lawyers are trying to rig the digital trade deals to undermine those new laws," Sen. Elizabeth Warren, D-Mass., said last week at an event organized by the advocacy group Rethink Trade.

Tech companies managed to add digital trade rules to the U.S.-Mexico-Canada Agreement that prohibits the parties from reviewing the source code for artificial intelligence programs and are trying to include similar provisions in the 13-nation Indo-Pacific Economic Framework trade talks, Warren said.

"Big Tech wants to keep its code in a black box where no one can see what they're doing," Warren said.

Negotiators from the U.S. and 12 other countries in Asia have been meeting in Bali, Indonesia, for the past few days to work on the IPEF, a trade deal that is the Biden administration's signature effort to counter China's growing economic influence in the region.
The dispute about the role trade deals play in creating global rules for the tech industry comes as Congress is weighing legislation that would address data privacy, content moderation, antitrust enforcement and curbs on artificial intelligence technologies.
House Energy and Commerce Chair Cathy McMorris Rodgers, R-Wash., and ranking member Frank Pallone Jr., D-N.J., say they will revive an effort to pass legislation that would create a federal data privacy standard. The committee approved a bill in the last Congress, but it didn't get a floor vote.

Rodgers has said holding Big Tech accountable is a key part of her agenda and has called for greater transparency into algorithms and software.

Sen. Amy Klobuchar, D-Minn., has also promised to pursue an antitrust measure aimed at tech companies. Klobuchar, the chairwoman of Senate Judiciary's Competition Policy, Antitrust, and Consumer Rights Subcommittee, and Sen. Charles E. Grassley, R-Iowa, a member of the panel, teamed up on a similar bill in the last Congress.

The Coalition of Service Industries, a trade group representing a broad group of service industries, including tech companies, said the trade deals allow exceptions for regulatory bodies to examine software source codes and aren't intended to limit Congress' ability to enact domestic laws